The NDC-5 is more than just an NMEA 0183 Combiner/ Multiplexer; it provides an installer with a highly flexible platform that can be used to solve many NMEA 0183 interconnectivity headaches.
Powerful routing allows any of the inputs to be routed to any output, combining data if required. Advanced features allow data rate conversion, auto-switching and advanced sentence-based routing and blocking.
PLEASE NOTE: The NDC-5 has been retired and replaced by the PRO-NDC-1E.
The configuration tool is accessible via any popular web browser using the Ethernet port, which supports both direct and network connections. Industry leading isolation is provided on all inputs and outputs as standard so that connected devices safely avoid hazardous ground loops, the number one cause of product failure in NMEA 0183 networks. This makes the NDC-5 robust enough to handle any NMEA 0183 installation.
Pluggable connectors allow new devices to be easily installed without the need to remove the NDC-5 from its mounted location. An optional professional DIN rail mounting mechanism keeps the NDC-5 secure in high vibration environments. Integrated LEDs provide feedback on basic status while advanced statistics are available via a Web Browser.
Ordering Information
(Part number/s)
Looking for an even more powerful NMEA 0183 multiplexer? Discover the PRO-MUX-1…
FEATURES
5 OPTO-Isolated NMEA 0183 inputs
2 ISO-Drive NMEA 0183 outputs
Dedicated bi-directional Serial port (fully isolated utiising ISO-Drive technology)
Serial port can be used as additional input / output
Ethernet port supports direct and network connection
Configurable input and output baud rates
Allows Data combining and rate conversion
2 independent Autoswitch virtual inputs with priority
Isolation to battery supply
Diagnostic LED's
IP65 rated Polycarbonate housing
Optional DIN rail mount
BENEFITS
Quick and easy to install
Configuration using standard web browser, no PC operating system compatibility issues
Advanced features solve NMEA 0183 data routing problems
Fully isolated with ISO-Drive technology for peace of mind
Easy firmware updates make the device future-proof
Power Supply
Input supply voltage
9 to 35 V DC
Input supply current
110mA max @ 12V DC (all outputs @ full drive into 100 ohm loads)
Input protection
Continuous reverse polarity, transient overvoltage and ESD protection
Power indicator
LED, Blue – indicates unit is functioning correctly
NMEA 0183 Port – Listener & Talker
Number of Listener / input ports
5 isolated NMEA 0183 Listeners
Number of Talker / output ports
2 isolated NMEA 0183 Talkers
Compatibility
Fully NMEA 0183, RS422 & RS232 compatible. RS485 Listener compatible
Electrical isolation
2500 V input to ground, 1500 V output to ground using ISO-Drive™
Speed / baud rate
In1 to In4: up to 38400 bps In5: 4800 bps Out1: up to 115200 bps Out2: up to 38400 bps
Talker output voltage drive
>= 2.1V (differential) into 100 ohm
Talker output current drive
20 mA maximum per output
Talker output protection
Short circuit and ESD
Listener input voltage tolerance
-15 V to +15 V continuous, -35 V to +35 V short term (< 1 second)
Listener input protection
Current limited, overdrive protection to 40 VDC and ESD protection
Listener data indicator
LED, Green (Flashes to indicate valid input)
Status indicator
LED, Green / Yellow / Red to indicate status (see user manual)
Serial Port
Number of input ports
1 isolated input
Number of output ports
1 isolated output
Compatibility
RS422 & RS232 compatible. RS485 Listener compatible
Electrical isolation
2500 V input to ground 1500 V output to ground using ISO-Drive™
Speed / baud rate
115200 bps
Output voltage drive
>= 2.1V (differential) into 100 ohm
Output current drive
20 mA max.
Output protection
Short circuit and ESD
Input voltage tolerance
-15 V to +15 V continuous, -35 V to +35 V short term (< 1 second)
Input protection
Current limited, overdrive protection to 40 VDC and ESD protection
Ethernet Port
Host interface
10/100BaseT, automatic polarity detection
Supported protocols
TCP/IP for configuration and firmware updating
TCP/IP and UDP for NMEA 0183 comms (upcoming feature)
Connector
RJ45
Electrical isolation
2kV
Indicators
Green – Link, Yellow – 100 Mbps
Mode Inputs

Input voltage range
0 to 35V DC
Protection
Transient overvoltage and ESD protection
Alarm Output

Contacts
Normally open and normally closed
Electrical isolation
1000V between power supply and contacts
Alarm indicator
LED, red indicates a valid alarm condition
Mechanical
Housing material
Polycarbonate
Protective Lid Material
Polycarbonate
Sealing Material
Expanded silicone foam gasket, closed cell polyurethane splash guard and ePTFE waterproof vent
Dimensions
127mm (L) x 106mm (W) x 48mm (H)
Weight
230g including screw terminals and RJ45 cap
Mounting
4 x 3.5mm lugs to allow panel mount with self tapping screws (included), optional DIN rail mount available on request.
Compass safe distance
TBD
Wiring terminals
Pluggable 2/3 way screw terminal, 3.5mm pitch, 14 to 30 AWG
Approvals and Certifications
EMC
IEC 60945 (sections 9 & 10)
CE
2014/30/EU
Environmental protection
IP65
Operating temperature
-15°C to +55°C
Storage temperature
-40°C to +85°C
Relative Humidity (RH)
0 – 80% RH
Guarantee
3 years
NDC-4 Vs NDC-5
Feature
NDC-4
NDC-5
Inputs (inc. serial port)
5
6
Outputs (inc. serial port)
2
3
Dedicated serial port
–
Yes
Ethernet port
–
Yes
Config tool
Windows only
Any popular web browser on any OS
Basic data filtering
Yes
Yes
Advanced data routing
–
Yes
Safe USB connection while powered via a battery
–
Yes
Pluggable connectors (quicker and easier installation)
–
Yes
Weather sealed
IP66
IP66
Ethernet port – for configuration and diagnostics. Sharing NMEA 0183 data will be added in a future firmware update
6 OPTO-Isolated NMEA 0183 inputs (including the serial port)
3 ISO-Drive NMEA 0183 outputs (including serial port)
Advanced Data Filtering/Routing
Configurable Input and output baud rates
Autoswitch mode available to offer system redundancy
Safe connection to USB with the 'USBKIT-REG'  while powered via battery (not available with NDC-4)
Serial port – for configuration, diagnostics or as an additional NMEA 0183 input/output
Free firmware updates make the device future-proof
Power LED to indicate operational state
Rx LED to indicate data on inputs
Status LED (bi-colour) to indicate output Data Overload or a range of other states
DIN rail or Panel mountable
Pluggable screw terminal connectors for quick and easy installation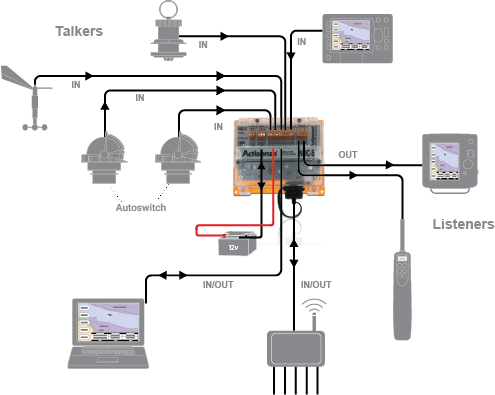 Actisense is dedicated to providing up-to-date software and resources for our products. Here are some useful tools and documentation to help you make the most of your product:
Related Products