QNB-1
Quick Network Block
Fault-free, NMEA 2000® backbone connections.
The QNB-1 and QNB-1-PMW provide alternatives to multiple connectors, reducing the cost of an NMEA 2000 cable installation. Perfectly suited to areas of high instrument density, as six drops can be connected.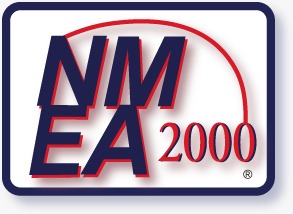 Fully NMEA 2000 Certified
Ordering information
(Part number/s)
The QNB-1 is available in two versions:
The QNB-1-PMW version is fitted with six standard NMEA 2000 M12 (Micro-fit) female connectors which allow 'plug and play' connections for quick and easy installation. A Raymarine STNG backbone can be wired to one side of the QNB-1 to combine standard NMEA 2000 with STNG without the need for adapter cables.
The QNB-1 version is fitted with glands to allow for installation of custom lengths of cable. This is a great option for 'mix & matching' standard NMEA 2000 devices with Raymarine STNG devices.
The LEDs provide information for the installer during set up and to indicate the presence of data, power status, power reversal and to show whether the fuses are intact.
FEATURES
High quality NMEA 2000 barrier strip connections
Diagnostic LEDs
Uses standard ATO fuses
BENEFITS
One unit provides six NMEA 2000 drops
Power feed is split to enable longer networks
Separate fusing for split power feed provides an easy way to isolate network segments
Simple installation on Mini and Micro networks using bulk cable
Easy to mix & match NMEA 2000 with Raymarine STNG on opposite sides
Electrical
Supply voltage
10-35V DC
Supply current, Supply voltage 12/24v (no load)
10mA
10mA
Micro cable fused protection
8A
Mini cable fused protection

16A

Power Polarity LED
Red = Incorrect, Green = Correct
NMEA 2000 Port In/Out
QNB-1-PMW drop connections
M12 Female (A-Coded) connector
QNB-1-GLA NMEA 2000 connector
5-way Screw Terminal, 5.08mm Screw Pitch
M20 gland clamping range
6 – 12 mm
Data LED
Flashes when data is detected on network
Mechanical
Housing Material
Polycarbonate – Light Grey
Lid Material
Polycarbonate – Clear
Gasket Material
EPDM Synthetic Rubber
M16 gland camping range
4.5 – 10 mm
M20 gland clamping range
6 – 12 mm
Dimensions
160mm (L) x 132.4mm (W) x 80mm (H)
Weight PMW variant
440g
Weight GLA variant
360g
Approvals & Certification
Operating Temperature
-20 – +55 °C
Storage Temperature
-30 – +70 °C
Humidity
93% @ 40°C
IP Rating
IP66
Guarantee
3 years (5 Years if registered)
NMEA 2000 Approved
One unit provides six NMEA 2000 drops
Power hook up is protected
Simple installation on Mini and Micro networks
Mix & match NMEA 2000 with Raymarine STNG
NETWORK DIAGRAM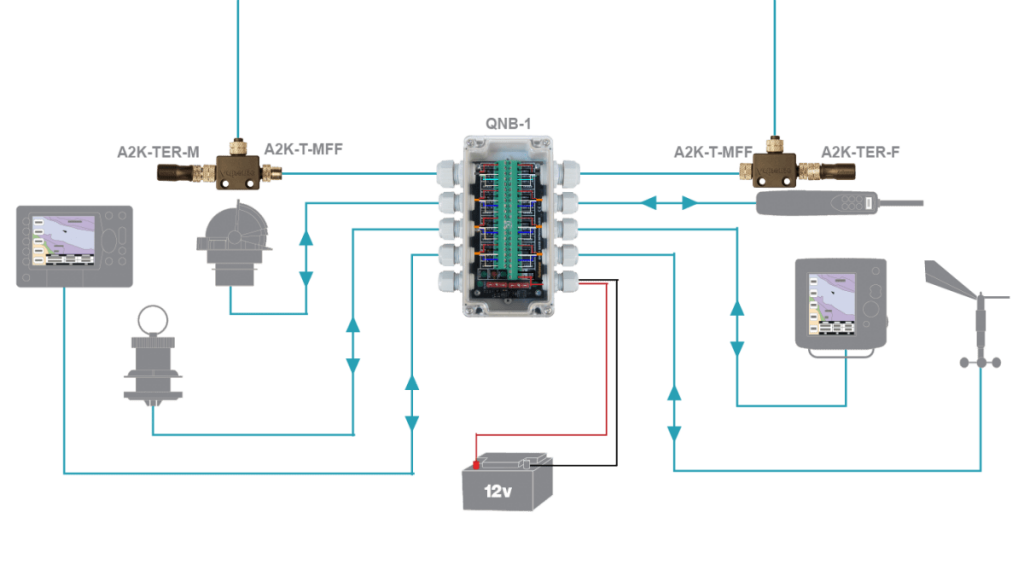 Actisense is dedicated to providing up-to-date software and resources for our products. Here are some useful tools and documentation to help you make the most of your product:
Related Products