A2K-MPT-1
Micro Power T-Piece
The A2K-MPT-1 is a simple, safe and efficient method of powering an NMEA 2000 network.
The Micro Power T can easily provide power to the NMEA 2000 bus with micro fit connectors to enable 'plug and play' connectivity.
The Actisense designed connectors are quality engineered and shaped to allow easy and secure connections, using our specialist interconnect and NMEA knowledge..
The Actisense specified cable is UL certified, the three-metre cable length ensures that the A2K-MPT-1 offers complete flexibility when installing.
PLEASE NOTE: This product is not currently available. Please order the A2K-MPT-2 instead.
| | |
| --- | --- |
| Electrical | |
| Rated Current | 4A (each feed) |
| Rated Voltage | 60VDC |
| Mechanical | |
| Male Contact | Brass, gold plated |
| Female Contact | Phosphor bronze, gold plated |
| Contact Carrier | PBT, black |
| Contact Polarisation | Standard M12 -"A"- polarisation |
| Mating Thread | M12 |
| Screw Cap | Brass, nickel plated |
| O-Ring Seal | Rubber, black |
| Housing | PVC, black |
| Cable Jacket Material | 0.8mm Nom. PVC, black |
| Cable Outer Diameter | 6.85mm ±0.254mm |
| Cable Length | 3M |
| Wire Length | 100mm (mm stripped) |
| Wire Jacket | PVC |
| Wires | 18 AWG (stripped and tinned) |
| Drain | 18 AWG (34 strand tinned copper) |
| Shield | Al-mylar |
| Weight | 290g |
| Approvals and Certifications | |
| NMEA 2000 Approved | |
| RoHS Compliant | |
| UL Certified Cable (E137250, UL1277) | |
| Protection | IP67 (when mated) |
| Operating Temperature | -20°C to +70°C |
| Storage Temperature | -40°C to +85°C |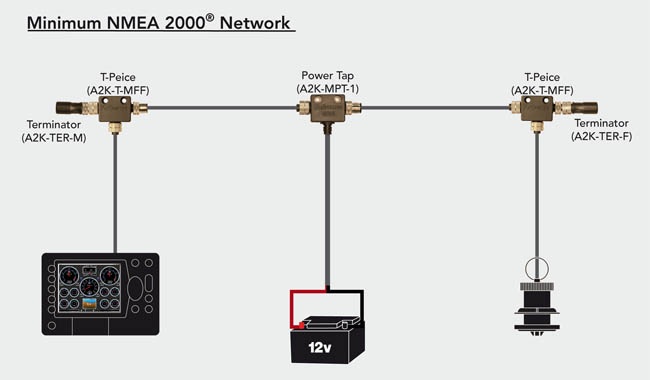 Actisense is dedicated to providing up-to-date software and resources for our products. Here are some useful tools and documentation to help you make the most of your product:
| | |
| --- | --- |
| Electrical | |
| Rated Current | 4A (each feed) |
| Rated Voltage | 60VDC |
| Mechanical | |
| Male Contact | Brass, gold plated |
| Female Contact | Phosphor bronze, gold plated |
| Contact Carrier | PBT, black |
| Contact Polarisation | Standard M12 -"A"- polarisation |
| Mating Thread | M12 |
| Screw Cap | Brass, nickel plated |
| O-Ring Seal | Rubber, black |
| Housing | PVC, black |
| Cable Jacket Material | 0.8mm Nom. PVC, black |
| Cable Outer Diameter | 6.85mm ±0.254mm |
| Cable Length | 3M |
| Wire Length | 100mm (mm stripped) |
| Wire Jacket | PVC |
| Wires | 18 AWG (stripped and tinned) |
| Drain | 18 AWG (34 strand tinned copper) |
| Shield | Al-mylar |
| Weight | 290g |
| Approvals and Certifications | |
| NMEA 2000 Approved | |
| RoHS Compliant | |
| UL Certified Cable (E137250, UL1277) | |
| Protection | IP67 (when mated) |
| Operating Temperature | -20°C to +70°C |
| Storage Temperature | -40°C to +85°C |
Actisense is dedicated to providing up-to-date software and resources for our products. Here are some useful tools and documentation to help you make the most of your product: