DST-2
Digital depth, speed & temperature transducer interface
Breathe new digital life into transducers, with digital signal processing technology.
The DST-2 digitises depth, speed and temperature transducer signals into NMEA 0183 data to deliver best-in-class seabed tracking.
It works with NMEA 0183 compatible devices, such as chart plotters, radars or an on-board PC. In addition, it can be calibrated via a PC to match various sensors and installations.
Using a DST with an existing depth transducer can be much more cost-effective than having to lift the boat out of the water to change the transducer skin fitting. Not only does this save money, but it also saves you time.
Ordering Information
(Part number/s)
FEATURES
Range of transducer frequencies available
Flash upgradable 'future proof' design
Generates the echo sounders 'ping' and analyses the returned signal
Digitises analogue signals into NMEA 0183 data
BENEFITS
Use with most NMEA 0183 displays
Can be calibrated
Trip data available with speed transducers
Designed to replace outdated stand-alone echo sounders
General survey firmware available
| | | | | |
| --- | --- | --- | --- | --- |
| Supply voltage | | 10 | 28 | V |
| Supply current | Supply voltage 12v | 30 | 40 | mA |
| | Supply voltage 24v | 30 | 40 | mA |
| NMEA in/out | | | | |
| Input voltage tolerance | Continuous operation | -15 | +15 | V |
| Differential input voltage | Required level for data to be detected | 2.0 | – | V |
| Output current | RS485 / RS422 compatible | – | 10 | mA |
| Baud rate | | 4800 | – | bps |
| Data output rate | | – | 1 | sec |
| Depth | Sensor dependent (Configurable Cal) | | | |
| Range (narrow beam) | Airmar P66, P79, < 10 knots, ideal conditions | 0.3 | 200 | metres |
| Range (wide beam) | Airmar DT800, < 10 knots, ideal conditions | 0.5 | 150 | metres |
| Range (narrow beam) | Airmar P66, P79, 10-40 knots, ideal conditions | 0.3 | 100 | metres |
| Range (wide beam) | Airmar DT800, 10-40 knots, ideal conditions | 0.5 | 100 | metres |
| Speed | Sensor dependent (Configurable Cal) | | | |
| Range | Airmar P66, DST800, calibrated 5 Hz / knot | 0.5 | 50 | knots |
| Temperature | Sensor dependent (Configurable Cal) | | | |
| Range | Airmar, calibrated 10k @ 25 °C | -10 | 50 | °C |
| General | | | | |
| Gland clamping range | Cable diameters accommodated | 4.5 | 10 | mm |
| Ambient temperature | | -20 | +70 | °C |
Digitises analogue signals into NMEA 0183 data
Use with any NMEA 0183 compatible device
Range of frequencies available
Flash upgradeable 'future-proof' design
Can be calibrated
Trip data available with speed transducers
NETWORK DIAGRAM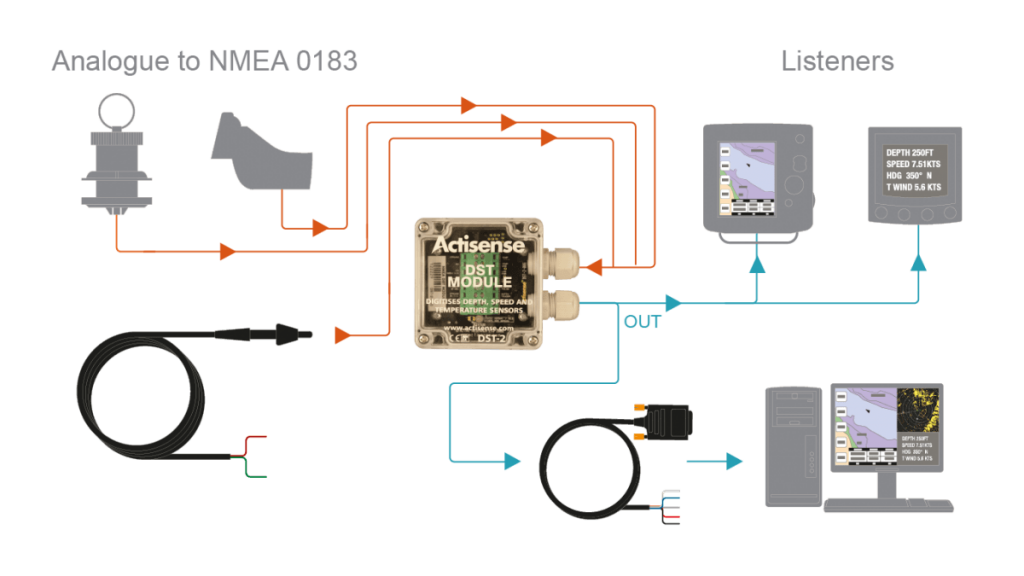 Actisense is dedicated to providing up-to-date software and resources for our products. Here are some useful tools and documentation to help you make the most of your product:
Related Products