NGW-1
Bi-directional NMEA 2000® Conversion Gateway
Hook up to NMEA 2000 whilst keeping currently installed NMEA 0183 devices.
The NMEA 2000 Gateway provides an uncomplicated way to link between a boat's data networks and converts NMEA 0183 data into NMEA 2000 data and vice-versa.
Multiple NGW-1 units can be used to multiplex numerous NMEA 0183 devices onto the NMEA 2000 network, using the network as a means of combining and transferring all data from one place to another.
NGW-1-ISO NMEA 2000 Gateway
NGW-1-ISO NMEA 2000 Gateway
NGW-1-STNG NMEA 2000 Gateway (SeaTalk NG)
NGW-1-USB NMEA 0183 to NMEA 2000 conversion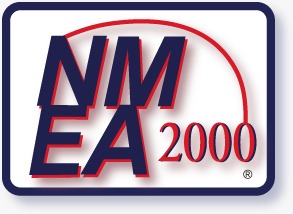 Fully NMEA 2000 Certified
Bridge an NMEA 2000 network with your old 0183 electronics using the NGW-1.
The NGW-1 has the largest range of conversions available on the market. To see a full up to date list of the conversions the various configurations can handle, please click here.
The Actisense NMEA Reader software utility allows the NGW-1 user to view and understand (in detail) the translated NMEA 0183 sentences output by an NGW-1 directly.
Ordering information
(Part number/s)
The NGW-1 is available to purchase in a variety of options:
NGW-1-ISO is the standard option. With an opto-isolated input and ISO-Drive output for direct NMEA 0183 device bi-directional connection.
NGW-1-ISO-AIS is the NMEA 0183 AIS option that enables the conversion of NMEA 0183 AIS data to its equivalent in NMEA 2000. This provides an 'out of the box' solution for quick installation with no configuration required.
NGW-1-USB is the NMEA 0183 USB (1.1 and 2.0) interface for bi-directional connection to a PC for use with NMEA 0183 software.
FEATURES
Fully isolated NMEA 0183 incorporating ISO-Drive™ technology
Advanced configuration using Actisense Toolkit allows Tx / Rx lists and Tx rates to be set
Supports Fast Heading at 10Hz
Up to 230,400 baud data transfer rate
Integrated 1.5m drop cable
Diagnostic receive LEDs
BENEFITS
Upgrade NMEA 0183 equipment to NMEA 2000
Allow NMEA 0183 devices to receive vital NMEA 2000 data
Use the NMEA 2000 bus to multiplex several NMEA 0183 signals together
Reliable, renowned bi-directional conversion engine
Supports a wide range of conversions including AIS
Easily configurable using Actisense Toolkit
Take a look at what is inside the NMEA 0183 to 2000 converter:
Power Supply (ISO, ISO-AIS & STNG Variants)
Supply Voltage (NMEA 2000 Port)
9.5 to 35V DC
Supply Current (NMEA 2000 Port)
35mA @ 12V DC, Max 50mA
Load Equivalent Number (LEN)
1
Power Supply (USB Variants)
Supply Voltage (NMEA 2000 Port)
9 to 29V DC
Supply Current (USB Host Port)
85mA @ 5V DC
Supply Current (NMEA 2000 Port)
15mA @ 12V DC, Max 50mA
Load Equivalent Number (LEN)

1

NMEA 2000 Port (All Variants)
Compatibility
Fully NMEA 2000 certified
Speed / Baud Rate
250kbps
Connectivity
M12 Male (A polarised) connector moulded on cable
Cable Length NMEA 2000
1.5m
Cable Length STNG Adapter

0.4m (1.9m with NMEA 2000 cable connected)

ISO Port (NMEA 0183 port – ISO, ISO-AIS & STNG Variants)
Compatibility
Full NMEA 0183, RS232 & RS422 compatible. RS485 Listener compatible
Speed/Baud Rate
4800 to 115200 Baud
Output Voltage Drive
>= 2.1V (differential) into 100Ω
Output Current Drive
20mA max.
Output Protection
Short circuit and ESD
Input Voltage Tolerance
-15V to +15V continuous -35V to +35V short term (< 1 second)
Input Protection
Current limited and overdrive protection to 40VDC
Connectivity
5mm stripped and tinned wire
Cable Length

1.5m

USB Port (USB Variant)
Compatibility
USB 1.1, 2.0 and 3.0
Speed / Baud Rate
4800 to 230400 Baud
Connectivity
Male type A plug moulded onto cable
Cable Length
1.5m
Drivers (Latest OS)
Windows XP, Vista, 7, 8, 10, 11 & MAC OS X supplied on CD & available via the 'Downloads' button towards the bottom of this web page
Drivers (Legacy OS)

Contact Actisense for full details of the legacy OS versions supported: support@actisense.com

Isolation
NMEA 2000 Port to ISO Port
Uses IsoDriveTM, Hi-Pot tested to 1000V
NMEA 2000 Port to USB Port
Galvanic Isolation, Hi-Pot tested to 1000V
Mechanical
Housing Material Lid
Polycarbonate
Housing Material Base
Flame retardent ABS
Weight NGW-1-ISO & ISO-AIS
220g
Weight NGW-1-USB
210g
Weight NGW-1-STNG

260g

Approvals and Certifications
Fully NMEA 2000 Certified
Meets all IEC 61162-1 & 61162-2 requirements
Meets all IEC 61162-3 requirements
EMC
IEC 60945 (sections 9, 10 & 11.2)
Environmental Protection
IP54
Operating Temperature
-20°C to +55°C
Storage Temperature
-30°C to +70°C
Recommended Humidity
0 – 93% RH
Guarantee
3 years
Upgrade NMEA 0183 equipment to NMEA 2000
Allow NMEA 0183 devices to receive vital NMEA 2000 data
Configure using Toolkit
NETWORK DIAGRAM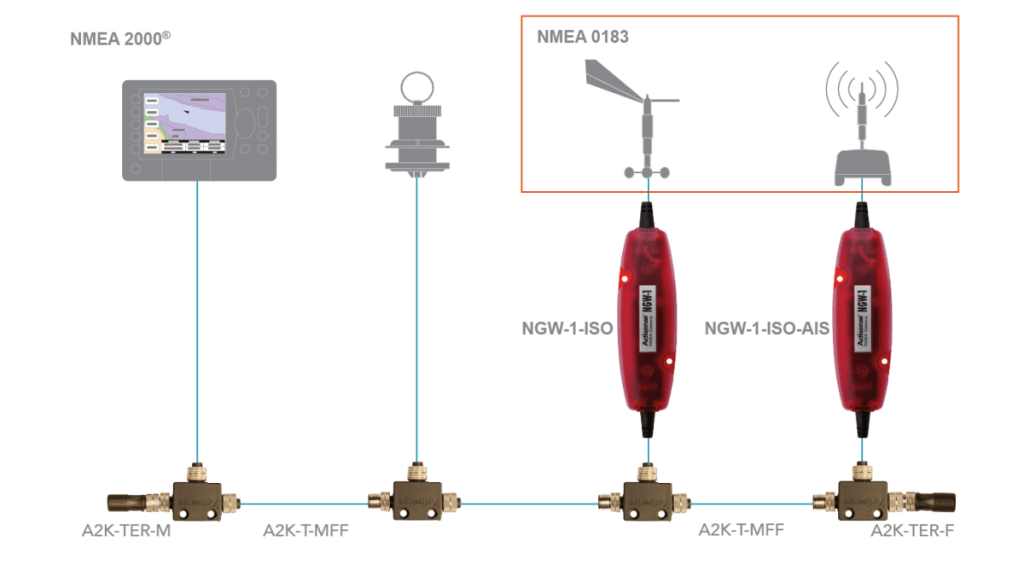 Convert between NMEA 0183 and NMEA 2000 with the NGW-1
NGW-1 Normal LED Bevahiour
Case Study – Updates to NGW-1 and EMU-1
Actisense is dedicated to providing up-to-date software and resources for our products. Here are some useful tools and documentation to help you make the most of your product:
FAQ's
Here are some Frequently Asked Questions about the NGW-1.
Need more help? Visit our Support Centre or Contact Us.
Related Products