W2K-1
NMEA 2000® to Wi-Fi Gateway
The W2K-1 is a rugged and reliable NMEA 2000 to Wi-Fi Gateway with built-in data logger and Actisense-i diagnostic tools.
Transfer data from an NMEA 2000 backbone to any device (e.g laptop, tablet or smartphone) connected to the W2K-1 via Wi-Fi and additionally convert this data to NMEA 0183 using Actisense's renowned conversion engine. Actisense-i is a suite of diagnostic tools and health checker for your network.
DOWNLOAD OUR FREE ULTIMATE GUIDE TO NMEA 2000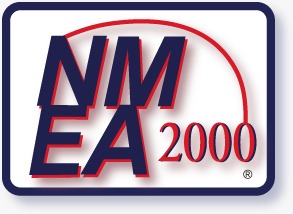 Fully NMEA 2000 Certified
The W2K-1 has built-in conversion of NMEA 2000 messages into NMEA 0183 sentences thus allowing a wide variety of vessel data (e.g. position, speed, course, wind speed, depth, engine data, AIS messages etc.) to be shared with NMEA 0183 compatible software applications running on connected devices.
All the data received (or a selected subset) can be logged to its internal micro SD card for later downloading to use for analysing the voyage. This is very useful for analysing race data, generating logbooks, diagnosing problems or even sharing your voyage details. Approximately 16 days* of data can be stored on the pre-installed industrial grade micro SD card, which can be upgraded should the user require more storage.
Actisense-i comes included as standard. Benefit from our full suite of diagnostic tools to help check and diagnose potential issues on a boat's electronics network, including voltage issues, and the working status of all devices attached to the network, Actisense-i has been designed to save installers and boaters time and ultimately, money, by giving them confidence in their electronics onboard.
The W2K-1 has the legendary Actisense "Reliability Built-In" along with useful diagnostic LEDs, internal antenna, enhanced password security, full certification and all packaged in an extremely rugged IP67 case.
*Bus load-dependent – can vary between 6 and 100 days
Ordering information
(Part number)
Features
Converts NMEA 2000 to/from NMEA 0183 (streamed over Wi-Fi)
Supports both TCP and UDP, streams data using up to three separate data servers
Data protocols are selectable to be compatible with a huge range of navigation software and apps
Approximately 16 days of Voyage data recording (upgradable)
Diagnostic LEDs for NMEA 2000 bus activity and Wi-Fi Status
Works as an access point and client simultaneously
Remote Firmware upgradability
Low power- 2 LEN (100 mA)
Supports 802.11 b/g/h (up to 150Mbps)
Automatically measures and reports the NMEA 2000 bus voltage
User Manual embedded on the device, easily accessible via browser
Each device has unique default SSID and Password for enhanced security
Actisense-i diagnostic tools
Benefits
Two-in-one NMEA 2000 to Wi-Fi Gateway and data logger
Enables use of mobile devices and laptops without the hassle of a physical connection
Allows compatibility with a wide range of NMEA 2000 & NMEA 0183 applications
Ruggedised IP67 casing suitable for wet and harsh environments
Works out of the box with pre-installed industrial grade SD card
Integrated antenna has less chance of physical damage
Quick and easy to install
Power Supply

Supply Voltage (NMEA 2000 Port)
9 to 30V DC
Supply Current (NMEA 2000 Port)
70mA (avg.) @ 12V DC

100mA (avg.) @ 9V DC

Load Equivalent Number (LEN)
2
Supply protection
Continuous reverse polarity protection
and transient overvoltage protection to 40V

Wi-Fi Radio

Compatibility
IEEE 802.11 b/g/n
Speed
802.11n up to 150Mbps
Frequency Band
2.4GHz ~ 2.5GHz
Max Output power
20 dBm
Antenna
Integrated internal antenna
Range (Open space)
30 meters
Security
WPA_PSK,  WPA2_PSK,  WPA_WPA2_PSK

Configuration

IP support
Supports TCP and UDP broadcast
Data servers
Three separate data servers
Data protocols
NMEA 0183 & Five proprietary
Security
SSID and Password configurable (Unique defaults per device)

Diagnostics

Power LED
Blue
NMEA 2000 Tx LED
Orange
NMEA 2000 Rx LED
Green
Status LED
Yellow
micro SD card
8GB Industrial Grade, FAT32

Mechanical 

Housing Material (body)
Polycarbonate
Housing Material (endcaps)
PBT
NMEA 2000 Connector
M12 Male (A polarised) connector moulded into case
NMEA 2000 Connector Material
Nickel plated brass
Weight
80g
Dimensions
106mm (L) x 73mm (W) x 24mm (H)

Environmental

Environmental Protection
IP67
Operating Temperature
-20°C to +55°C
Storage Temperature
-40°C to +85°C
Recommended Humidity
0 – 93% RH

Approvals and Certifications

NMEA 2000 Certified
RoHS and REACH compliant
RF Module certification
FCC / CE-RED / IC / TELEC / KCC / SRRC / NCC
EMC
EN 301489-1 V2.2.0:2017
EN301489-17 V3.2.0:2017
FCC part 15b, ICES-003
ANSI C63.4:2014, Class B
Radio
EN 300 328
Guarantee
5 years
NMEA 2000 to Wi-Fi Gateway and voyage data recording in one device
Converts NMEA 2000 to / from NMEA 0183 (streamed over Wi-Fi)
Supports both TCP and UDP and streams data using up to three separate data servers
Data protocols are selectable to be compatible with a huge range of navigation software and Apps
8GB high reliability Industrial micro SD card is pre-installed
Approximately 16 days Voyage data recording
Remote Firmware upgradability
Diagnostic LEDs for NMEA 2000 bus activity and Wi-Fi Status
IP67 rated ruggedized case
Top end Wi-Fi allows unit to simultaneously work as an Access Point and connect to existing Wi-Fi networks in Client mode
Low power – uses less than 2 LEN from NMEA 2000 bus
2.4GHz radio with integrated internal antenna supporting 802.11 b/g/n (up to 150Mbps)
Automatically measures and reports the NMEA 2000 Bus Voltage
User manual embedded on the device – accessible via browser
Each device has unique default SSID and Password for enhanced security
NETWORK DIAGRAM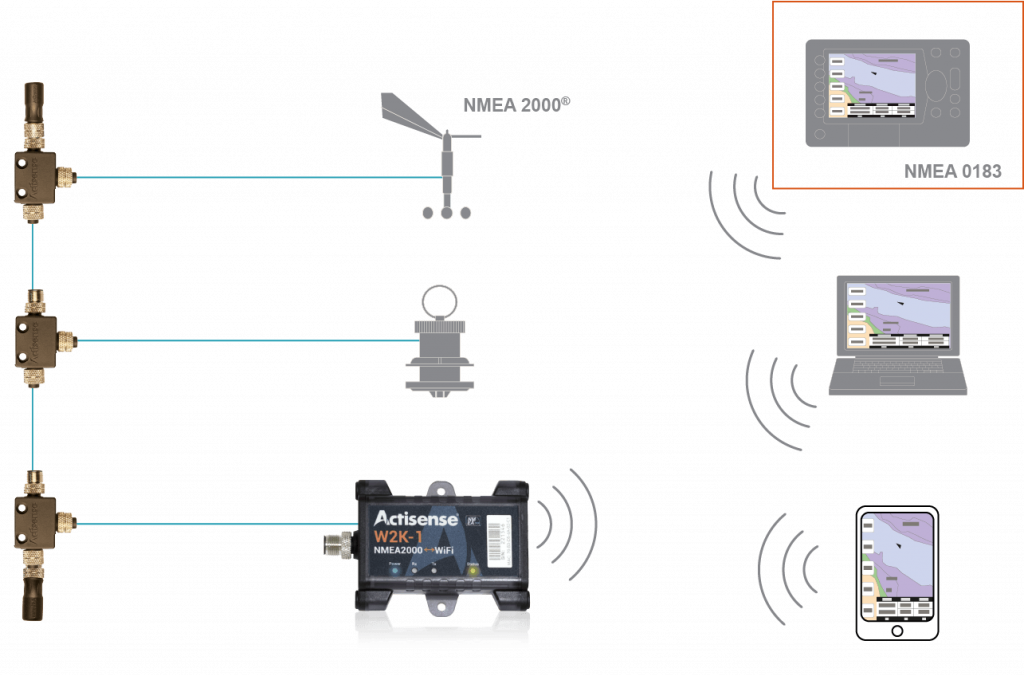 Actisense is dedicated to providing up-to-date software and resources for our products. Here are some useful tools and documentation to help you make the most of your product:
Related Products